What A Dramatic Game Yesterday!!
Assalamualaikum.. Go Espana !! Officially I want to tell the whole world that I am one of the Spain Fans.. Owh, I cant imagine if Spain lost the game yesterday against Portugal.. For the first 45 minutes I really speechless when Portugal make several trials toward Cassilas ! Luckily, the game ended with 0-0. But again for the second half , Portugal still energetic and passionate to win the game. Both sides make a very good movement and defensive playing. Spain is like hell ! They cant even make a clean score toward Portugal's goal keep. They lost an idea on how to trap those Portugal's player. The game ended 0-0 until extra time ! #sigh
For the second time in EURO 2012 the game is decided through Penalty.
Cassilas is really a great Goal Keeper. He did a good job yesterday ! Tanx Allah for giving Spain won the game. And for Portugal, seriously they are really qualified to be in the final but they have no luck to win the game. They were playing with full of dangerous ~ Pity them, Pity Portugal, and pity CR !! #sigh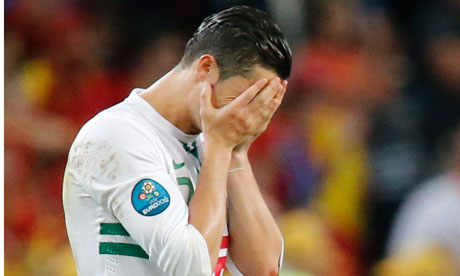 Cristiano Ronaldo shows his disappointment during the penalty shootout in the Euro 2012 semi-final between Portugal and Spain.
Spain have been widely criticised during this tournament for their refusal to play a striker, yet nobody could say this tactic had been failing, so it was a surprise when Vicente del Bosque named Alvaro Negredo in his starting lineup. Negredo's only previous appearance in this tournament had come as an 89th-minute substitute in a group game, and he had appeared only once in qualifying, and that against Luxembourg. This was a very different and considerably more testing encounter, and not only did he seem to have little idea what his job was, neither did his team-mates. They passed to him just 14 times, while he had one shot – not on target – and attempted no crosses. Nine minutes after half-time he was replaced with a midfielder and Spain's improvement was immediate
Spain won against Portugal through Penalty : 4-2.
I
ker Casillas saves Joao Moutinho's penalty
Portugal's Goal Keeper cant even touched the winning ball by Spain last night.
Cesc Fabregas once again became a penalty hero for the Spanish, who got the win they deserved on the balance of play.
Portugal cant fulfill their ambition to win this championship for the first time in their involvement ! What a bad dream for them.They have no luck. Penalty is a great disaster and now is their turn to focus more on Olympic London 2012. Cristiano Ronaldo the most expensive player in the world shall accept all these kind of sadness. As a captain, I really can feel what did he feel last night. #sigh
Now is the time for Spain to focus for the final .Who will be their enemy ?
Most people expect that German will win the game against Italia and meet Spain in the final. Oh no! It will be a great and awesome game if Spain and German meet in the final as it is actually the rematch between them after German lost to Spain in the previous Euro's final match.
Go ESPANA !!